Troubles Child & Crazy Wanda – Terry Goodkind
Geplaatst:
vr dec 06, 2019 08:38

De thans gekozen zelfstandig te lezen novellen met Angela Constantine als belangrijkste karakter, is ietwat vreemd ze "ziet" moordenaars, deze zijn een introductie, een soort van smaakmaker, zeg maar, een warming up voor de speculatieve thriller roman:'The Girl in the Moon'
'Troubles Child' – Terry Goodkind – 2018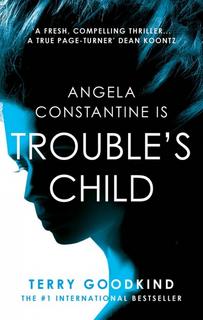 Wandering through the snowy woods in the mountains, Angela Constantine stumbles upon a wolf feeding on the body of a murdered young woman. And that discovery is only the start of her problems. Throw a blind evangelist and his mute sister into the mix, and #1 New York Times bestselling author Terry Goodkind has concocted another irresistible cocktail of suspense, a tale where the difference between life and death dances on the edge of a razor-sharp blade.Trouble's Child, a brand-new novella set in the world of the highly anticipated upcoming novel The Girl in the Moon, is the perfect introduction to Angela Constantine, Goodkind's most memorable creation yet: beautiful, mysterious, and deadly.
'Crazy Wanda' – Terry Goodkind – 2018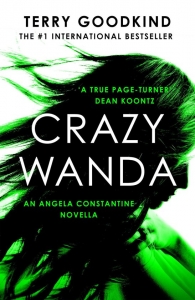 Trouble always finds Angela Constantine. After an abusive childhood, she became a woman far too soon. Now, she lives in a secluded mountain cabin and works a bar job in the local town. Her colleague Wanda – in and out of prison for petty crimes, having an affair with a married man – will cause more trouble than anyone could know. Except Angela. Because Angela leads a double life right under everyone's noses – she has the superhuman ability to recognize killers just by looking into their eyes.